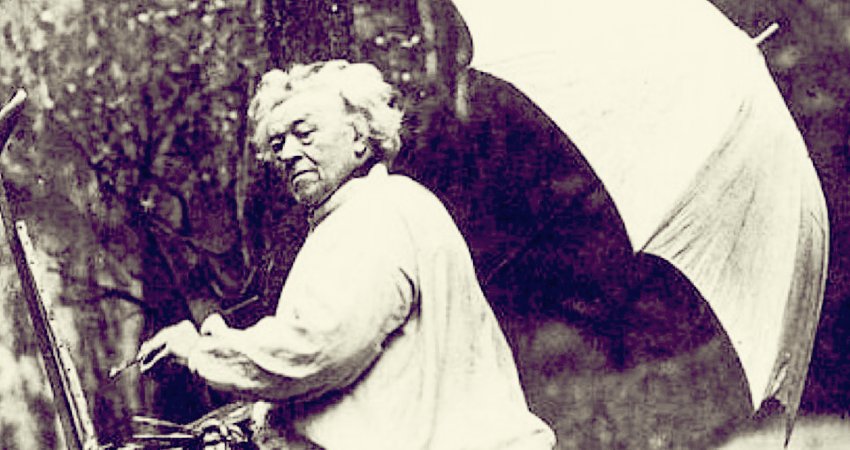 Jean Baptiste Camille Corot was a French landscape and portrait painter as well as a printmaker in etching.
He traveled to Italy several times to study the masters of the Italian Renaissance and to draw the crumbling monuments of Roman antiquity. During one of his tours, Corot presumably visited the Aniene Valley, since he sketched a famous image of the Gardens of Horace (Jardins d'Horace, today at the Louvre Museum in Paris).
We can't say today with due precision where Corot actually found the landscape he decided to dedicate to the Roman poet; yet, at the time, only a well known area could be identified with Horace, and it is the area around Mandela, where Horace's villa was retrieved, close to the Licenza river.
This work, made in 1855 on cliché verre (Corot was the best known of the artists who used this technique), represents a rural scene in which we can understand the figure of a man, most likely Horace, peacefully reading (or perhaps writing, too). To produce this landscape, he sketched his drawing onto glass plates placed over photosensitive paper. Once the plate was complete, he exposed it to sunlight, allowing marks on the glass to slowly print onto the sheet.
Corot often worked outdoors, sketching directly from nature; he used to draw with an etching needle, using sketchy lines that translated directly to his print. Another fact confirms that Corot visited these vicinities: the landscape painter also left us one of the best known paintings about Villa d'Este, a glimpse of the Villa from a seldom used point of view.
---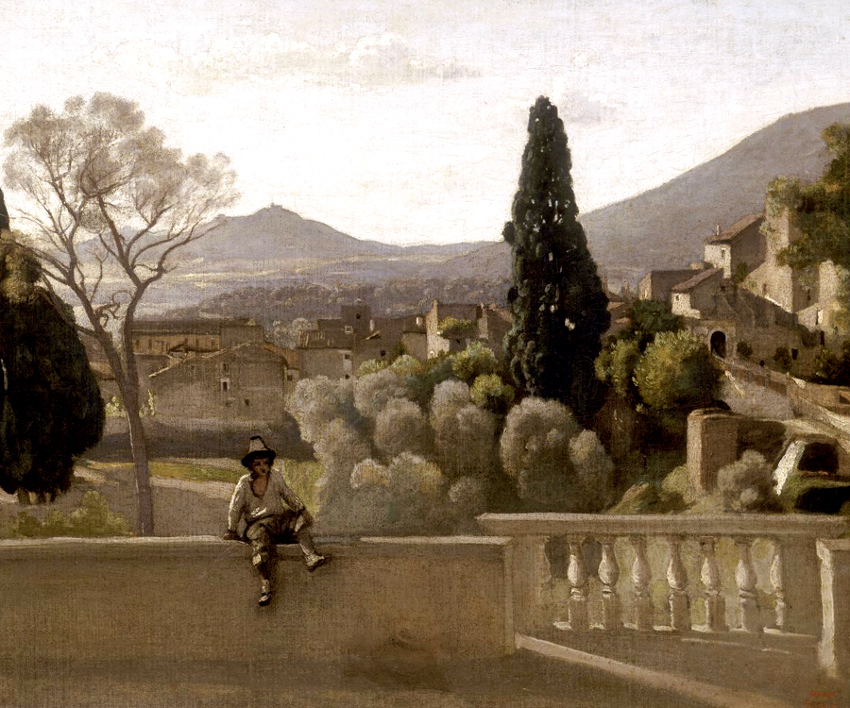 In 1855, then, Corot drew the Gardens of Horace, and in the same year he became famous after Napoleon III bought his painting "La charette. Souvenir de Marcoussis, près Montlhéry"; this work had been one of the most notable exposed at the Exposition Universelle.
The Emperor Louis Napoleon Bonaparte was a cousin of Julie Bonaparte, who sat aside him in official ceremonies; Julie (or Giulia, how they call her in Italy) was the Marquioness del Gallo di Roccagiovine, and she perhaps invited the painter to the Castle of Mandela.

See other artists related to the Castle: